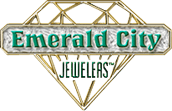 My Trusted Jeweler Since 1978 !
Hours:
Regular Hours
MONDAY - SATURDAY: 10AM TO 7PM.
SUNDAY: CLOSED.
Emerald City : Links & Info
Emerald City Jewelers Links and Info
Emerald City Jewelers is proudly associated with :
DCA Diamond Council of America
JVC Jewelers Vigilance Committee
We're rated with JBT Jewelers Board of Trade
We have an A rating from Better Business Bureau
MAJA Mid-America Jewelers Association
We hold certification from the Gemological Institute of America in DIAMONDS and DIAMOND GRADING We are licensed by state of Ohio for buying precious metals. Issued by state of Ohio Department of Financial Institutions.
License No.PM.300224.000
Citizen Watch www.citizenwatch.com
Unique Settings of New York www.uniquesettings.com
GIA – Gemological Institute of America www.gia.edu
Stuller Settings www.stuller.com
Astourian www.astourian.com
Quality Gold www.qgold.com
Triton Jewelry www.tritonjewelry.com
Overnight Mountings www.overnightmountings.com
Frequently Asked Questions
Yes, our goal is to be the highest payer for gold in Ohio. We will beat any offer from a competitor as long as we can verify that the offer is valid.
We pay for all gold, diamond or watch purchases with cash. We do write checks on large amounts for safety reasons, but more often then not we can accommodate customer requests.
Yes, just call us and we can give you instructions on how to safely send us your gold, watch or diamonds.
No, we don't buy gold filled jewelry.
Maybe, if the diamonds are 2.5mm (0.05 carat) or larger and are of good quality, we will pay extra for those diamonds. If the diamonds are extremely small or of very low quality, the cost to remove them safely would be more than they are worth.
Gold prices change every second of the day Monday - Friday. The gold market is closed on the weekends. You can see the gold price ticker on our Sell Gold page. Our price for gold does not change every second like the gold market but can change 1 or more times a day. If we give you a price on a Tuesday and you come in on Thursday, there is a good chance that the price could be higher or lower. We pay based on what our prices are at the exact moment you come in to sell.
DWT is the symbol for Pennyweights. Pennyweights is a measure of weight used in the jewelry business. There are 31.1 grams in an ounce but 20 DWT or pennyweights in an ounce. There are some competitors that quote their offers for buying gold in pennyweights. This makes the price sound higher when compared to a price based in grams. This is why we quote the amount we are buying gold for in grams and pennyweights so there is no confusion. This way, when you are comparing prices,you are comparing apples to apples.
Yes, we do buy silver jewelry, silverware, tea sets, etc. We have a 3 ounce minimum.
We test every piece of jewelry before we buy it. We can tell if the gold is 10K, 14K, 18K, 22K or something in between. If your jewelry is gold filled, gold plated or not gold at all, we can tell as soon as we test it. If you're not sure what you have, please bring it in to us and we will be happy to tell you.
That depends on many factors. We get a lot of phone calls that start, "I have a 1 carat diamond, how much are you paying for them?", or "I have an appraisal for $5,000 on my diamond ring, how much will you pay?". The answer is we don't have enough information to make you an offer. Diamonds have many factors that go into the price such as carat weight, cut, color, clarity, shape and certificate. The only way to make you a real offer is to bring the diamond to us for evaluation. The only way we will make you an offer by phone or E-mail is if you have a GIA certificate with your diamond and that offer will be approximate and conditional upon seeing the diamond. Other certificates tend to be slightly to highly inaccurate and not allow us to even make an approximate offer by phone or E-mail. An appraisal from a jeweler is not a certificate of any kind. This is a document for insurance replacement if your diamond is lost. The value is often very inflated and has no bearing on the cash offer you will receive. Emerald City Jewelers wants to buy your diamonds and our goal is to be the highest offer you will receive for your diamonds. If you do have another offer that is higher than ours that we can verify, we will beat that offer.
Yes, we buy dental gold.
No, you don't need an appointment to sell any item.
14K gold is 58.333% pure gold and the rest is other alloy metals. Often you will see a symbol on 14K gold that says 585, this means 58.5% gold which is considered plumb or slightly over 14K. 18K gold is 75% pure gold and the rest is other alloy metals. You can often find a symbol on 18K gold that says 750.
If you are looking for a Jewelry Store that you can trust, and you live in the Cleveland or surrounding Ohio areas, contact Emerald City Jewelers.