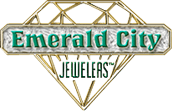 My Trusted Jeweler Since 1978 !
Hours:
Regular Hours
Emerald City Jewelers is currently closed temporarily with the state of Ohio non-essential business order.
Gold, Platinum, & Silver
The Characteristics of Platinum, Gold and Silver
Heirloom-Quality Platinum
Platinum is the most precious of all metals used in jewelry.
It is rarer, purer, denser and stronger than gold or silver.
Because of its purity, it is hypoallergenic.
It also won't tarnish and is extremely durable.
Platinum has a deeper, more luminescent white hue than either white gold or silver.
Platinum is the traditional metal for heirloom-quality jewelry. It's a natural partner for a fine white diamond.
The Many Looks of Gold
Gold is a rare, valuable, durable and versatile precious metal. It is relatively heavy and very malleable, meaning it can be made into a wide range of intricate jewelry designs.
Gold also has a high corrosion resistance and will not tarnish from everyday use, making it ideal for jewelry.
Gold is commonly alloyed with other metals to increase its strength and durability, as well as to alter its hue.
Gold is available in various degrees of purity.
Yellow gold is seen most often, but white gold (gold mixed with nickel, palladium and silver) is popular too, especially for bridal jewelry.
Rose gold (gold alloyed with copper) is currently very fashionable.
Silver: A Designer Favorite
Silver is a favorite medium for jewelry designers because of its versatility, availability, affordability and appeal.
It is very bright, durable and easy to work with.
Silver is also substantially cheaper than gold or platinum, which means that silver jewelry enthusiasts can enjoy the kind of big, bold cutting-edge designs found in expensive high-end gold or platinum pieces, but at a fraction of the cost.
Silver is lighter than gold and platinum and tends to tarnish.