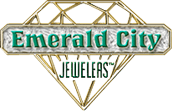 My Trusted Jeweler Since 1978 !
Hours:
Regular Hours
Emerald City Jewelers is currently closed temporarily with the state of Ohio non-essential business order.
Emerald City : Gold
Integrity, it's worth it's weight in gold
It can be a dizzying task to sort out the quality gold buyers from the unethical groups just trying to make a buck.
We've heard the horror stories of customers who have been swindled by scammers, or have been taken advantage of by businesses with little to no integrity.
To insure that you are given a fair price when selling your precious gold and valuables, come to Emerald City Jewelers, or consider the following tips:
Look for signs of credibility!
Emerald City Jewelers is happy to answer all of our customers' questions and concerns about our business and our reputation.
Don't hesitate to call and ask questions to get a better feel for any business.
Where are they located?
Is it in a shady, high crime area, or a high class shopping plaza?
What's their reputation around town?
Ask others about their experiences with them, or ask the shop itself if they can provide you with testimonials or references from other customers.
Check with organizations like the Better Business Bureau to see if the business has had any prior issues or complaints.
Consider how long they have been in business.
There's a big difference in the peace of mind a customer has when dealing with a gold buyer who has been in business for decades like Emerald City Jewelers, versus a business with little experience.
No one likes paperwork and regulations, but any person selling gold or jewelry should be weary if the business they are working with does not require proper ID or other record keeping information, especially in large transactions.
A business' integrity is based on more than just outward appearances.
If a business is not honest in all aspects of its operations, they are not likely to be honest during their dealings with customers.
Know where the rates and pricing are coming from!
Anyone dealing in precious metals should clearly disclose the amount they pay.
Precious metals like gold are a commodity, just like oil and natural gas.
Many dealers claim that prices fluctuate daily and that they cannot quote a figure.
If they can't provide an estimate after being given the total weight, purity, and type of gold being sold, it is best not to deal with them at all.
It's likely that they will not give a fair price.
Emerald City Jewelers has no problem, given the proper information, with providing our customers with a quote or approximate value.
We uphold our reputation and integrity by giving a fair price to our customers with every transaction, whether they are buying or selling.
Pay attention to the details and ask questions!
Always read the fine print.
Never sign a contract, or any document for that matter, if you do not know what it means.
Always ask for clarification of a term or clause if you have any questions or concerns at all!
You are the customer, transacting in a business activity, there's no reason why a shop owner or dealer should not be happy to explain or answer your questions.
And if someone tells you "that doesn't matter" or "that doesn't mean anything" then they either are not knowledgeable or they want to avoid answering the question, both of which should be red flags to any customer.
All businesses should know the purpose of their forms and the content and meaning which they convey.
If the clause or term were not important or applicable it would not be part of the contract or document.
When it comes to buying and selling gold, or any valuable stone or metal, Emerald City Jewelers is honest and upfront with all of its customers.
There's no fine print or surprises.
We are more than happy to explain our policies and answer any question or concern we are presented with.
Since 1978, Emerald City Jewelers have been providing the city of Cleveland, Ohio with fair rates for all gold deals (both buying and selling), quality service, and top notch customer care.
Don't believe us?
Ask around the Cleveland area who the most trusted jeweler in town is and it won't take long to discover that Cleveland prefers no other than Emerald City Jewelers.
Come experience the difference, and get money for your gold along with some peace of mind.