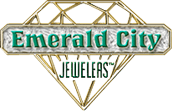 My Trusted Jeweler Since 1978 !
Hours:
Regular Hours
Emerald City Jewelers is currently closed temporarily with the state of Ohio non-essential business order.
Emerald City : Why Emerald City?
Why Emerald City?
We will exceed your expectations, whether you are selling unwanted gold or diamonds, or you plan to purchase new or estate jewelry. For more than 35 years we have proudly maintained our reputation as the most trusted jeweler in the Cleveland metro area.
Stop in and learn for yourself the advantages to coming to Emerald City for your buying and selling needs in gold, jewelry and collectibles.
We carry a multi-million dollar inventory at wholesale prices.

We are licensed in the State of Ohio.

We guarantee top dollar for your items.

We have expert jewelers and a certified watchmaker on site.

We offer custom design and manufacturing.

We are a direct importer of precious gems.

We maintain membership in Mid America Jewelers Association, Jewelers of America and Ohio Jeweler's Guild.

We offer instant financing.