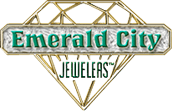 My Trusted Jeweler Since 1978 !
Hours:
Regular Hours
Emerald City Jewelers is currently closed temporarily with the state of Ohio non-essential business order.
Emerald City : Watch Care
Repair – Setting – Cleaning
Your fine watches and jewelry are in the very best hands at Emerald City Jewelers. As a full-service jeweler, our Master Jeweler and certified watchmaker provide expert knowledge for all your needs, from battery replacement and sizing to cleaning and repairs.
We offer quick turnaround times and warranties on such brand names as Rolex, Omega and Breitling. Bring all your fine watches to our professionals for inspection, battery replacement, repairs and cleaning.
Our suite of jewelry services includes ring sizing, mountings, soldering, stone replacement, retipping prongs, jewelry cleaning & polishing, necklace repair, bracelet repair, clasp replacement, refurbishment & custom jewelry designs.
Stop in today and see how we can help you!
Ring Sizing – We'll determine your proper ring size and professionally size your silver, gold or platinum ring.
Mounting and Prong Retipping – Proper maintenance of your jewelry settings can prevent you from losing your precious stones. We will inspect your mountings and prongs for wear and advise you as to need for repair or retipping.
Stone Replacement – Choose from our selection of precious stones and let our professional jewelers replace missing gems in any setting, including solitaires, three-stone rings, tensions settings, channel settings, bezel settings or pavé.
Custom Jewelry Designs – For a truly unique piece of jewelry, use our CAD design services. Our professionals use a variety of techniques, from lost wax casting to hand fabrication to create a new piece of custom jewelry you will cherish forever. We can reuse your pieces or furnish gold and stones from our collection.
Jewelry Cleaning and Polishing – Our professionals will clean, polish and restore your jewelry, including applying rhodium to white gold to improve its appearance, making your old jewelry look new again. We also recommend proper cleaning products for your home use.
Chain Soldering and Bracelet Repair – We inspect and repair broken or worn chains, pendants, charms and bracelets. We can replace worn clasps and closures and solder broken chains and charms.
Pearl Restringing – Time and normal wear will cause the chords of pearl necklaces and bracelets to become brittle and susceptible to breakage. We can prolong the life of your pearls and other stones and beads through regular inspections of the clasps and restringing as necessary.