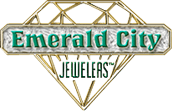 My Trusted Jeweler Since 1978 !
Hours:
Regular Hours
Emerald City Jewelers is currently closed temporarily with the state of Ohio non-essential business order.
Emerald City : Links & Info
Emerald City Jewelers Links and Info
Emerald City Jewelers is proudly associated with :
DCA Diamond Council of America
JVC Jewelers Vigilance Committee
We're rated with JBT Jewelers Board of Trade
We have an A rating from Better Business Bureau
MAJA Mid-America Jewelers Association
We hold certification from the Gemological Institute of America in DIAMONDS and DIAMOND GRADING We are licensed by state of Ohio for buying precious metals. Issued by state of Ohio Department of Financial Institutions.
License No.PM.300224.000
Citizen Watch www.citizenwatch.com
Unique Settings of New York www.uniquesettings.com
GIA – Gemological Institute of America www.gia.edu
Stuller Settings www.stuller.com
Astourian www.astourian.com
Quality Gold www.qgold.com
Triton Jewelry www.tritonjewelry.com
Overnight Mountings www.overnightmountings.com
Frequently Asked Questions
[wp_super_faq show_specific_category=links]
If you are looking for a Jewelry Store that you can trust, and you live in the Cleveland or surrounding Ohio areas, contact Emerald City Jewelers.