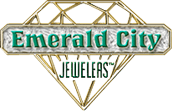 My Trusted Jeweler Since 1978 !
Hours:
Regular Hours
Emerald City Jewelers is currently closed temporarily with the state of Ohio non-essential business order.
Emerald City : Estate Jewelry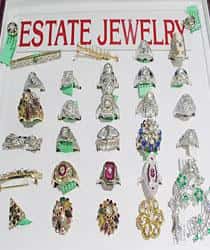 Estate Jewelry
Bringing the Sparkle of the Past Back
What is it Estate Jewelry?
"Estate Jewelry" is an unfamiliar term to many.
Estate jewelry is simply used or previously owned jewelry.
It gets its name because often times it is the jewelry left behind from a deceased loved one's possessions or estate.
Not to be confused with antique jewelry which tends to refer to any jewelry that is at least 70 years old.
How much is it worth?
As with any kind of used product, the value of your estate jewelry will be based largely on what kind of demand there is for it, along with the intrinsic value of the gemstones and precious metals used.
Although the jewelry may look valuable, looks can be misleading.
Often consumers think they have a really valuable piece of jewelry on their hands when in all reality the gems, stones, or precious metals may be fake.
Natural gemstones are valued at prices many times higher than synthetic stones.
Identifying your estate jewelry might not be easy if it is antique, since many old jewelry makers did not use hallmarks: those marks that identify the maker.
Look to see if your jewelry is signed from a leading jewelry maker or brand, such as Cartier, George Jensen, Tiffany, Van Cleef & Arpels, Lalique, or Boucheron.
This is a good indication that this jewelry will likely be worth more than similar unsigned jewelry pieces.
Should I clean or repair it?
Give your estate jewelry a good cleaning before trying to sell it.
If you are unsure at all about how to properly clean your estate jewelry, have a professional do it.
It won't cost much, and Emerald City Jewelers offers cleaning as a free service to their customers.
If the jewelry needs fixed, you should consider the cost and the jewelry's resale value.
Restoration of damaged or broken Estate Jewelry is usually not recommended because the cost of the restoration will likely outweigh the value of the jewelry.
If your estate jewelry is from a leading, highly sought-after, brand, then restoration might be considered.
Where should I sell it?
Your best bet is to bring your Estate Jewelry to a trusted, reputable jeweler like Emerald City Jewelers in Parma, Ohio.
We may not be your only option, but we are surely the best.
Auctions can take months to get you your money, and selling to a stranger can be risky business.
If you decide to sell jewelry to a stranger, always meet them in a public place, never meet the potential jewelry buyer in your house or theirs.
Meet at the potential buyer's bank.
That way, if the buyer is interested in your fine jewelry, they can get the cash right away, and you can complete the transaction in a safe, secure, environment.
There are other options such as local pawn shops, but the price you will be offered will likely be based only on the scrap metal price and the intrinsic value of the gemstone.
For designer pieces, whose value is enhanced by style, brand, and craftsmanship, it is best to consult with a buyer, like Emerald City Jewelers, which specializes in fine branded jewelry.
We look forward to serving all of your Estate Jewelry needs in Cleveland, Ohio.