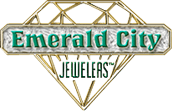 My Trusted Jeweler Since 1978 !
Hours:
Regular Hours
Emerald City Jewelers is currently closed temporarily with the state of Ohio non-essential business order.
Emerald City : Platinum
The Power of Platinum
At Emerald City Jewelers one thing is for sure, we know platinum.
Our expert jewelers know quality when they see it. And as a result quality  is what we sell and it's what we buy.
If you're in the market to purchase a platinum piece, we have what you're looking for.
There's a treasure sure to please in Emerald City's collection, whether you're trying to find a ring for your bride to be, or just looking for a piece that can be worn in any setting from casual to formal.
Jewelry made of platinum has a status and image unlike any other.
Although it's a huge metal in the bridal business now, its desirability and use goes back thousands of years.
Appreciation for its beauty, versatility and style were "rediscovered" in the early 1990s, and today, one in four brides chooses platinum for her wedding set.
In addition to its icy white color, it's superior strength makes it the ideal setting for a diamond.
Another wonderful thing about platinum is its purity. When you buy 18-karat gold, you are getting 18/24ths, or 75% gold, but when you buy platinum, you are getting 85% to 95% pure platinum. This high purity makes the metal tarnish-resistant and hypoallergenic as well.
Most often platinum can be identified by a marking or stamp showing 850Pt, Pt850 or 850Plat; or 950Pt, Pt950 or 950Plat, indicating 85% to 95% purity.
As always, we believe in paying a fair price, leaving our customers satisfied, whether selling or buying at our shop.
Come visit Emerald City Jewelers for all your jewelry needs.