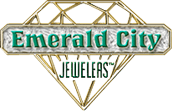 My Trusted Jeweler Since 1978 !
Hours:
Regular Hours
Emerald City Jewelers is currently closed temporarily with the state of Ohio non-essential business order.
Emerald City : Coins & Bullion
Bullions & Coins
A Collector's Paradise at Emerald City
There are two main reasons that currency and coins are collected, either for investment purposes or personal pleasure.
No matter what the reason a person collects coins, one thing is for sure, they'd love to visit Emerald City Jewelers in Parma, Ohio.
Emerald City Jewelers offers one of the finest collections of coins and bullions near Cleveland.
Whether it's just a small hobby or a full blown passion, we've got the goods to please any coin enthusiast or collector.
There are various coins that a collector might be seeking from a bullion or coin of a particular year or country to a currency piece from a particular series.
Some are rarer than others, and some are in better condition than others.
Because a bullion is a coin that has been made from precious metals, they are normally kept as investments or collector's pieces of value instead of being used as every day currency.
Bullion's are commonly made from gold and silver.
Emerald City has a wide array of coins on display from common pieces to true rarities.
We're sure we've got a coin you've been looking for.
Coins are normally graded by rareness and quality.
Pricing of coins and bullions is often affected by what type of coin it is, the condition of the piece, the weight of the coin, the precious metal used, and the demand of the economy.
When you deal with Emerald City Jewelers for any of your coins or bullions you can be confident that you're always given a fair price, whether you're buying or selling.
Stop by our shop today to see what we have to add to your collection.