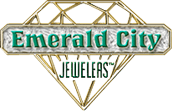 My Trusted Jeweler Since 1978 !
Hours:
Regular Hours
Emerald City Jewelers is currently closed temporarily with the state of Ohio non-essential business order.
Emerald City : Silver
The Aesthetic Similarity of White Gold and Silver is Uncanny
Despite what they say, all that glitters is not always Gold.
It comes in silver too! Whether it's in the form of coins, watches, jewelry, or décor, it outshines the competition.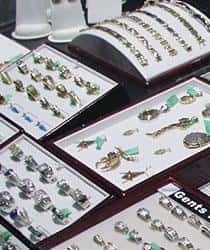 White gold has increased immensely in popularity in the past few years, but white gold can cost the consumer a pretty penny.
Silver is beautiful yet still affordable and it compliments both men and women alike and those of all skin tones.
Because it is so similar in color to white gold, many people find it to be a favorable alternative.
Emerald City Jewelers craft it into a variety of pieces including pendants, necklaces, bracelets, broaches, rings, watches, diamond and gem settings, and more.
The softness of silver allows fine and intricate designs to be created by craftsmen.
With the timeless, elegant and stylish designs offered in Emerald City Jeweler's silver collection, you'll wonder why you haven't seen this silver lining before!