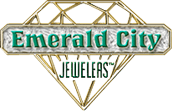 My Trusted Jeweler Since 1978 !
Hours:
Regular Hours
Emerald City Jewelers is currently closed temporarily with the state of Ohio non-essential business order.
Welcome to Emerald City
Thank you for visiting the greatest jewelry store website in the world! At least we think so. We are continuing to make it everything you need it to be. We truly want to be the best jewelry store in the world.