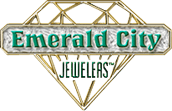 My Trusted Jeweler Since 1978 !
Hours:
Holiday Hours
December 10 - December 23
Monday - Friday 10am - 9pm
Saturday 10am- 7pm
Sunday 12pm - 5pm
December 24th 10am - 4:30pm
We will be closed from December 25-January 1st for Christmas and New Years and inventory. We reopen and go back to regular hours January 2nd at 10am.
Emerald City : Visit Us
Visit Emerald City Jewelers
7611 Brookpark Road
Parma, OH 44129
Toll Free: 877-966-GOLD (4653)
Ph: 216-749-GOLD (4653)
Hours:
Open Mon – Sat 10a – 7p
Closed Sunday