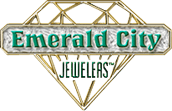 My Trusted Jeweler Since 1978 !
Hours:
MONDAY - SATURDAY: 10AM TO 7PM.
SUNDAY: CLOSED.
Emerald City : Watch Care
FAQs for Watch Care
Watches come in all shapes and sizes, from antique pocket watches of decades long ago to the new shining Rolex of today.  No matter the style or year made, they are all timeless classics.  In order to keep that watch ticking like a clock, and running for years to come, you might need to give your watch a little extra care and maintenance.  Below are some commonly asked questions regarding watch care and repair.  If you have a question not addressed below pertaining to your watch, feel free to give your local Parma, Ohio watch repair shop a call! 
·         What's the best way to care for my watch's leather strap or watch band?
Certain factors like climate, wearing habits, and constant use can affect the life span of a watch strap.  Leather straps should be kept dry.   Leather watch starps become brittle and break after exposure to water.  If you want to keep the shine of the leather finish on the strap, it's recommended that you avoid contact of the strap with perfume, mostly due to the alcohol content that can strip the shine and finish away from a leather band.  If your leather watch band is worn in the pool (exposed to chlorinated water) or the ocean (exposed to salt water), then the leather strap should be gently wiped down with fresh water and left flat to air dry.
·         Can I wear my watch in the pool or shower?
While many watches are water resistant, no watch is truly waterproof.  Water resistant only means that the watch's case has been sealed to withstand a certain amount of water pressure or depth.   The seal on a watch is normally designed to withstand only limited contact with water like splashes and rain.  Do not leave a watch on during a shower, bath, or visit to the steam room.  The steam, mildew, perfume, chlorine, salt water, and other foreign agents can enter the watch, break down the seals, and cause damage to the moving parts.    Unless a watch is labeled as a "diver's watch," then it's best not to test its ability to keep water out.   
·         Is my watch scratch proof or scratch resistant?
There is a big difference.  A watch crystal may be scratch resistant, but no crystal is truly scratch proof.  To keep your watch scratch free it's recommended that you wrap it in a soft cloth when placing it on hard surfaces, store it in its original box, and do not wear it during activity which may cause damage to the watch.  Try to avoid wearing multiple pieces of jewelry on the same wrist as your watch.  They can rub together creating scratches.  When placing a watch in a jewelry box or container, do not just drop the watch into the box or drawer as it could come in contact with another piece of jewelry and become scratched.
·         How long will my watch battery last?
The movement in a Quartz watch is powered by a battery.  The average battery in a Quartz watch is a 1.55 volt and is designed to last from 2 to 5 years depending on the brand and type.  If the Quartz watch is losing time then the battery may need replaced, or the piece may need maintenance. 
Automatic watches can lose their power.  Mechanical watches with automatic movement have a spring wound by the natural movement of the wearer's arm.   If not worn daily, the power reserve can be depleted.  Daily wearers should manually wind their watches once every 2 weeks or so.  This keeps the wheels in motion and keeps the lubrication or oils from drying out.  Those who do not wear their watch on a daily basis should wind it about 3 times a week for continual operation. 
Some people believe that pulling out the crown or stem on the watch saves the life of a watch's battery.  It does NOT!  All pulling out the stem does is it disengages the hands from the movement, but the battery is still being used and depleted.  Also, keeping the pin pulled is a great way to let in damage causing dust and moisture.
·         Does my watch need periodic or annual maintenance?
All watches require periodic maintenance.  For recommendations on service, it's helpful to look at the warranty booklet or information given when the watch was purchased.  Quart watches should be brought to your trusted jeweler for inspection and maintenance with each batter change (usually every 2 to 3 years).  To maintain water resistance, inspections and maintenance of the seals and gaskets should be performed every 2 to 3 years.
For all of your watch maintenance, inspections, and repair needs, come to your trusted Cleveland, Ohio area jeweler at Emerald City Jewelers.  We look forward to assisting you!