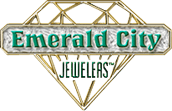 My Trusted Jeweler Since 1978 !
Hours:
Holiday Hours
December 10 - December 23
Monday - Friday 10am - 9pm
Saturday 10am- 7pm
Sunday 12pm - 5pm
December 24th 10am - 4:30pm
We will be closed from December 25-January 1st for Christmas and New Years and inventory. We reopen and go back to regular hours January 2nd at 10am.
Welcome to Emerald City
Thank you for visiting the greatest jewelry store website in the world! At least we think so. We are continuing to make it everything you need it to be. We truly want to be the best jewelry store in the world.