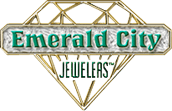 My Trusted Jeweler Since 1978 !
Hours:
Open Mon - Sat 10a - 7p
Closed Sunday
Welcome to Emerald City
Thank you for visiting the greatest jewelry website in the world! At least we think so. We are continuing to make it everything you need it to be so please feel free to CLICK HERE and let us know what you think or make any suggestions. We truly want to be the jeweler to the world.